We will walk you through the steps on how to safely buy magic mushrooms in Detroit Michigan. Since psilocybin magic mushrooms also known as "Shrooms" have been decriminalized in Detroit there are dozens of Shroom delivery services popping up and more out there every day. As you walk through the city you will see posters, signs, and stickers, and have people coming up to you asking if you are interested in shrooms but are these businesses or people safe? We take the guesswork out of finding safe magic mushrooms in Detroit and will go over the decriminalization of natural psychedelic mushrooms and psychedelic plants.
Best Shroom Delivery Detroit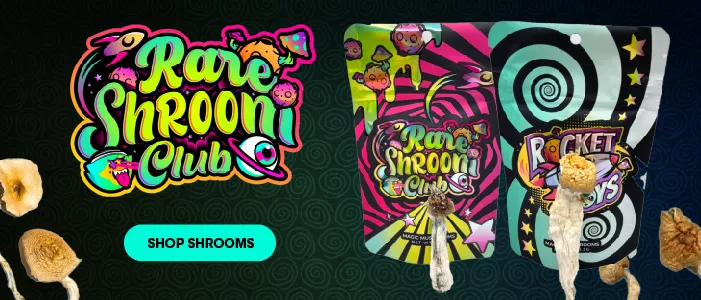 Rare Shroom club has the highest quality and largest selection of magic mushrooms in Detroit. With over 20 strains of magic mushrooms, you are able to tailor your shroom experience and explore different types of psilocybin effects. Whether you are looking to microdose or hero dose Rare Shroom Club has you covered.
Rare Shroom Club delivers 7 days a week and the hours are below:
Monday – Thursday: 10am – 8pm
Friday – Saturday: 10am – 8:30pm
Sunday 11am – 8pm
How To Buy Shrooms for Delivery In Detroit
You can order magic mushrooms online, over the phone, or over text. We will outline the steps that are required to order shrooms in Detroit.
Step1: Find a Trusted Shroom Delivery ex. Rare Shroom Club
Step 2: Call, Text, or Order Online
Step 3: Provide requested information which includes "Name, E-mail, Phone Number, Drivers License and a Phone of you holding your driver's license.
Step 4: Select which shroom products or strains you would like to order
Step 5: Have Cash ready with exact change if possible ready for the driver
Step 6: Enjoy Your Magic Mushrooms!
If you are looking for your everyday regular common magic mushroom you will want to order b+ which are commonly known as "B CAPS" and have been available through chocolates and dried mushrooms for years. Now that shrooms have been gaining popularity there are many other strains available that can make it hard to decide. Some of the most popular strains are Penis Envy, Amazonian, Albino Goldie, Alcabenzi, and Yeti. If you are interested in learning more about magic mushroom strains visit our strain guide or strain library.
Where To Find Magic Mushrooms in Detroit
When looking for psilocybin mushrooms in Detroit Michigan you will need to look for a delivery that services your part of the city or county. For example, Arbor Shrooms only delivers outside of the city of Ann Arbor Michigan outside of Detroit while Rare Shroom Club Services everything within the city of Detriot. Depending on where you live or where you are staying you will want to make sure you find a trusted delivery that services your area. Below we have outlined different deliveries and their service areas that will deliver shrooms to your locale within Michigan. No matter which county you are in, Washtenaw County, Macomb County, St Clair County, Livingston County, Oakland County, Wayne county, or Monroe County we have you covered.
Shroom Decriminalization in Detroit Michigan
Shrooms have been decriminalized in Detroit Michigan as of November 2021 along with other entheogenic plants such as peyote, mescaline, ayahuasca and cacti. Unfortunately LSD, Acid, and other psychedelics do not fall into the determinization and are still determined as psychedelic drugs, only entheogenic plants are decriminalized. The possession of therapeutic and entheogenic plants such as shrooms is not being prioritized by law enforcement in Michigan. With over 65% approval by Detroit voters and council the people of Michigan are very excited about future legalization and are happy with the steps, Michigan councilmembers have taken thus far to move things in the right direction. State Senator Jeff Irwin has recognized this by stating " When you look at these entheogenic substances, they are not causing problems in our communities and they are the types of substances that have medicinal value and a long history of cultural and religious significance". Jeff Irwin and Adam Hollier helped push through the senate bill for decreminilzation and are at the forefront of reforming the criminal justice system.
What does the decriminalization of magic mushrooms and psychedelics mean for shroom enthusiasts?
If you are caught with a personal possession of magic mushrooms you will not go to jail! Shrooms in Michigan are no longer a jailable or arrestable offense. State prosecutors have stated they are not planning to prosecute the use or possession of entheogenic plants in their counties. Even though most police departments & prosecutors are on the same page with letting citizens that possess shrooms go it is still ultimately up to the prosecutor and police department if you are stopped with shrooms in your possession to give you a ticket or pursue charges in court statewide. The City council has stated that plant psychedelics are the "city's lowest law-enforcement priority".
Is Michigan & Detroit the frontier for the legalization of magic mushrooms and other psychedelics?
Michigan and Detroit are definitely on the frontier of the legalization of magic mushrooms. They are taking the right steps to decriminalize and legalize a natural therapeutic plant that provides therapy and enjoyment to so many people. Shrooms and other plant psychedelics have therapeutic use in healing mental health issues, traumas, and more. There are countless studies that have proven mental benefits. In the past the use of this plant has ruined people's careers and lives but as Michigan takes steps in the right direction that will be a thing of the past. The state of Michigan is already seeing benefits in the Justice system by gaining time back for the police, court systems, and more from decriminalization so law enforcement and courts can focus resources on cases and issues that really matter. In 2020 Ann Arbor City council was the first county to decriminalize magic mushrooms in Michigan. Many states within the United States are in the same boat but federal law is lagging behind which seems to be a "normal" occurrence in the United States ever since what some may call "criminal" War On Drugs. Detroit is not the only city or state taking a stance, Michigan City, grand rapids, Oakland, Oregon, hazel park, and Denver all have city councils and citizens pushing for legalization. We can only hope federal law catches up and the FBI and DEA take a similar stance in the future.
Buying Shrooms Safely In Detroit
It is great to know but it is great to know that you can now have shrooms delivered to your door safely by reputable trusted delivery services within Detroit. The possession and use of entheogenic plants such as shrooms have come a long way and still have a long way to go. If you want to browse more shroom deliveries within the Detroit area take a look at our directory which shows the different magic mushroom deliveries and their service areas.